Why SEO Strategy Shouldn't Ignore UX, and 5 Common Design Mistakes to Avoid
Good set-up, quality content, and a pretty design are the formula for successful SEO… right? If only it were that simple. We've said it before: SEO is not a fill-in-the-blanks process. It requires a unique mix of creative thought and data-backed research and work to be truly successful. Nowhere is this more evident than in the unique interplay of user experience (UX) and the role it plays in search engine optimization. In fact, UX plays a more important role than ever before, extending beyond the visual. When was the last time you thought about user experience? And what steps have you taken to ensure your site is thriving with the best possible UX design? UX design can make or break a website. Search engines have evolved to make use of advanced algorithms and machine learning that take UX into account. Simply put, poor user experience now has an impact on search engine results. SEO companies and agencies strive for a winning combination of SEO and UX. Collaborative design and set-up are essential for successful rankings and initiatives. It just so happens that your conversion rate will see benefits too, a happy side effect of effective UX design! If you're not already doing it, using SEO services to improve UX is something you can't afford to skip. Here's why:
User Signals and Behaviour
User signals factor into search engine rankings, Thus, any problems with UX will affect organic search results and conversions. Since users don't always enter a site at the home page, you should consider the various channels and entry points users take to your site. Use analytics tools to determine landing and exit pages; this will give you insight into how users are interacting with individual pages. And, of course, keep in mind that if a user is searching for a specific keyword, the page they're landing on had better give them the info they need. Don't make your users jump around to find something on your site!
Avoid Common UX Mistakes
If a user can't find what they're looking for in a minute or two, chances are they're going contribute to your bounce rate. At best, you've lost a customer; at worst, your priming them to switch to the competition. Thankfully, there are simple and straightforward solutions to these issues. Here are a few familiar challenges and what you can do to overcome them:
Tabbed Content
We can't stress this enough: never hide the content a user is looking for! Tabs and dropdowns are another step (and therefore potential frustration) that get between users and successful conversions. The solution? Find visually distinct means of conveying and highlighting the important stuff. Remember how design operates on three distinct levels? Create a good first impression visually, deliver on the promise your site makes, and give users a good reason to visit again. Visual designs must account for how a user's eyes are going to move about a page, so make sure people are seeing what you want them to see right off the bat. And stop hiding content!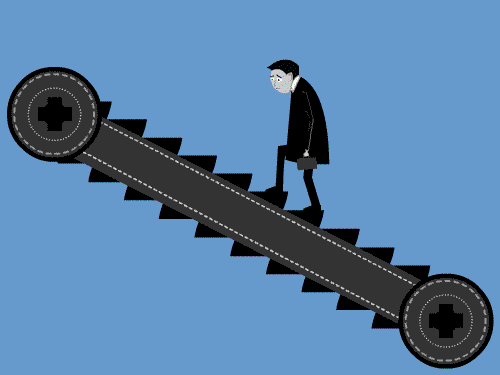 Infinite Scroll Pages
These pages have one URL but multiple topics on a single page. When you land on one, you've got to keep scrolling to find what you're looking for. And because the content isn't loading until you start scrolling, using your browser's built-in search function isn't going to help. It's a time-consuming and frustrating experience for users. Break up site content (visual or verbal) into more digestible chunks. Remember, users scan and want to find info quickly. If the page can't be broken up, then implement some sort of navigation system or table of content for quick jumps to what users need to find.
No Visual Hierarchy
If done well, eye-catching web design can convert your users and leave a lasting impression. But sometimes, the UX design of a website is ineffective. This is where visual hierarchies come into play. Imagine a pyramid of your goals based on how you would ideally like your users to interact with your website. The top of the pyramid is a type of conversion functionality, such as a call to action button. This call to action should be the first thing users see when arriving at your landing page. Lower down the pyramid is interactive videos or compelling content that entices them to discover more about your brand and business. The design of your page should prioritize visual content based on your visual hierarchy, with conversion rates being the most eye-catching, and so on. Simply put, visual hierarchies prioritize visual content based on your goals.
Poor Checkout Process
For e-commerce businesses, finalizing an online order is the pot of gold at the end of the rainbow. But if your checkout process isn't fast, clear, or easy to use, your customers will likely abandon their carts. To optimize your check-out process for a quick, easy, and straightforward experience, consider using these UX design factors:
A guest checkout option—since many users don't want to register because it's time consuming and means they may get bombarded with unwanted e-mails;
A clear, detailed view of items in the shopping cart;
A progress indicator to show where customers are at in the checkout process; and,
The total cost of the order, including taxes and shipping fees, is detailed and visible prior to finalizing the purchase.
Outdated Web Design
First impressions are huge when it comes to websites. The aesthetics of your design can directly impact how your business is perceived. If your site looks outdated, lacks a consistent theme, and isn't up-to-date on current design trends, then it's possible that users will be skeptical of your business and decide not to trust you. Furthermore, Google will likely rank your site poorly since it doesn't adequately accommodate the visually-appealing aspect of user experience. It's important that Google prioritizes the user's experience when it comes to your website, so to ensure you rank high on Google's search engine, you need to adapt that same priority. There are ways you can improve your web design to account for UX. Consider having:
Visually-appealing designs that follow a theme;
Less clutter and more white space—this is more attractive and can help guide users' eyes to your call to action; and,
Fast page loading times to keep users satisfied and more likely to stick around.
There are many aspects of UX design that contribute to offering the best possible user experience. SEO companies collaborate with business owners, marketers, designers, developers, and content creators to provide optimal SEO services that account for UX. With this collaboration, you can include UX in your SEO strategy, get your site up to speed, and boost both conversions and rankings.