Boost Brand Identity, Grow Business Reach, and More – Here Are 5 Reasons Why You Should Hire an Agency to Handle Your Social Media
Social media marketing gives businesses a direct line into their customers' lives and an opportunity to build a relationship like never before. But, as anyone will tell you, relationships take time and effort. Maintaining a connection to consumers through social media takes commitment. You need to invest time, effort, and resources in your social media presence to keep your followers engaged and satisfied. Consistent, diligent work is needed to maintain engagement with your audience. It takes hours each month to manage just one social media platform, let alone the full plate your business must use to maximize social engagement. That's a tall order for many businesses. Personnel, resources, and time are all precious commodities that might be hard to come by, which is why so many businesses outsource their social media management (SMM) to a digital marketing agency. Agency expertise ensures dedicated social media managers stay on top of your accounts at peak times to provide real-time, high-quality responses to consumers, not to mention follow-up responses and regular posts to promote your brand. Furthermore, they maintain your brand's tone and voice across all platforms to help ensure continued social media success. But that's not all an agency can help with.
5 Reasons to Outsource Social to Digital Marketers
We've put together 10 key reasons why outsourcing your social media efforts can help you increase social media effectiveness and success – and how that translates into success for your business.
1. Track and Maximize Social Performance
Digital marketing agencies track and analyze social media analytics, monitoring awareness, engagement, and conversion rates.
What's more, they can tailor a social media schedule for your organization. Based on their insights and research, agency experts construct a posting schedule to help you maximize exposure. By getting your social content in front of as many eyes as possible, they can maximize how your accounts work for you, whether for lead generation, brand awareness, or customer outreach.
2. Consistent Brand Messaging
Maintaining a consistent brand identity consistent through your social messaging can be a challenge. How your brand "voice" translates from one platform to another isn't always immediately clear, either. But by outsourcing to experts in the field, you ensure your brand messaging is maintained at every point. But what does that mean, really? In short, it means a single, unified presence across all platforms. All accounts are working in concert, sharing your content on a regular schedule and adapting it to suit individual audiences. For example, the tone you use on LinkedIn won't fly on Twitter, and the way you share on Instagram won't apply to Facebook. Instead of a single generic post blasted out on all these channels, you're tailoring your message for each one. Which brings us to…
3. Targeting Key Audiences
Beyond voice and tone, there are plenty of technical aspects that come along with targeting certain audiences you'd like to reach. And here's the thing: social media is all about sharing. You want your content in front of as many eyes as possible. While organic sharing with your customers, fans, and supporters is great, it sometimes needs a boost. But without outreach and spending, that content relies exclusively on organic sharing. That's where advertising budgets come in. Boosting a post on Facebook, for example, means putting a budget behind your post to put it in front of the eyes you want to reach. Boosting a post allows you to target certain demographics and ensure you get valuable screen time. It's not a guarantee you'll get a clickthrough, but you increase your chances. Remember, your existing audience already sees the content you're sharing. That content maintains the relationship.
4. Basic Link Building Outreach
Your content strategy probably already includes a link-building component. As we've mentioned earlier, social media marketing helps put your content in front of more sets of eyes. If you're a tech company sharing new developments you're excited about, maybe a company like yours will see your content and feel the same way. Now say those people share your post through their own social channels. Your social reach increases and your content gets that valuable visibility. From there, content marketers and link-building SEO experts might start incorporating backlinks into their sites. Before you know it, you've built authority and helped get your links higher up in Google Search. (We are simplifying things here, but that's the gist of link building – you literally get sites to link back to your own!) Social sharing's role in link building shouldn't be overlooked. It's something of a wildcard, but it's nonetheless an easy way to build quick and easy backlinks, assuming your content gets the sharing and reach it needs.
5. Dedication and Passion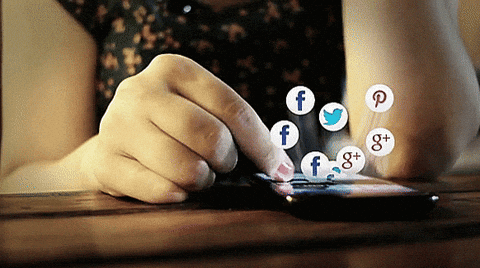 As mentioned earlier, social media management is a full-time job in and of itself. Working with agency experts essentially puts an individual or a team in the driver's seat of your social media presence. If the biggest hurdle for your organization is simply finding the time and personnel for SMM, then outsourcing is a no-brainer. Agency experts have the time and know-how to keep your social media presence working for you. What's more, they've got the passion to give it their all – it's their job, after all. What's more, it's important to note that SMM experts work with you. If there's something you need to be posted quickly, they're always available to provide insight and advice to make it happen. SMM experts add value to your social presence, making recommendations and optimizing your content to get it up and visible quickly.
How Outsourcing SMM Benefit Your Business
Outsourcing is often the most cost-effective solution to SMM. Getting a digital marketing agency to handle your social media campaigns often costs less than hiring one employee in-house. Plus, you get access to a whole team of experienced marketers. If you're still in the start-up phase or are new to the social media marketing game, you may not have the time to monitor, manage, and measure your social media. But by handing this responsibility over to marketing specialists, you can improve your messaging, outreach, and impact. Here's how a digital marketing agency can help you:
Develop And Implement a Strategy
An agency can help you develop a clear and effective SMM strategy to suit your specific business goals. The agency SMM team helps you stay on top of all your daily social media tasks and progress through your strategies, putting your plan into action and ensuring it's delivered effectively. What's more, they provide support to your in-house staff. They can answer social media questions and teach social media skills, and they can also offer knowledge to help you avoid pitfalls and adapt your strategy as needed.
Access to Influencers and Integrated Marketing Efforts
An agency may have access to a database of top social media influencers who you should network with. This will save you plenty of time finding these influencers on your own. A digital marketing agency can also successfully integrate your social media strategies with your overall marketing strategy for optimal marketing results.
Warning Signs You Need Social Media Outreach
If your social media strategy includes any of the following, then you need to step up your game:
You only post on social media when you have time—which could be almost never.
You only post what you want to sell—which will turn off readers.
You're not taking social media seriously enough. As in, you don't have dedicated, experienced staff take care of it. Instead, you've hired an unpaid intern or borrowed Nancy from accounting to do this work.
Get in touch with experts to help get back on track!
Why In-House Doesn't Always Work
If you don't have the time, resources, or expertise to keep up with social media, your in-house efforts are constantly fighting an uphill battle. Unless you latch onto something viral, you're going to have a hard time building a dedicated following. Remember:
Social media requires effective, engaging storytelling, not boring, impersonal robot-type interactions.
Social media isn't always about sales, it's also about communication and relationship building.
You need to provide real-time responses to all comments, or you risk losing customers.
You need an experienced social media manager to develop an effective strategy. An intern or an employee with another role may not have the experience to optimize your social media marketing strategies.
Don't leave your social media on the back burner for when you "have time." Your social media needs as much love and attention as your other marketing efforts. If you can't build and nourish your social media relationships on your own, get the help of a digital marketing agency who can.
---
Tags - Digital Marketing, Social Media, developing social media plans, digital marketing, digital marketing advice, how social media helps your business, outsourcing social media management, outsourcing to a digital marketing agency, planning social media, SMM, social marketing, social media and SEO, Social media marketing, social media strategy, social monitoring